Solaer® Solar Powered Lake & Pond Aeration System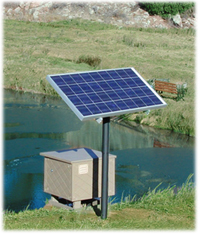 The Foundation of Healthy, Beautiful Ponds and Lakes
The Solaer system is a one-of-a-kind aeration system that was developed by Keeton Industries as an alternative to grid powered aeration (usually fossil fuel). Solaer systems are great for both remote installations and environmentally conscience applications. They are for aquatic environments ranging in size from small ornamental ponds to lakes up to 5 acres. (For larger systems, please contact us)
Why spend your hard earned money on utility costs for running your aeration system when you can have a system that will run for years with no additional costs?
Solaer systems pay for themselves with time, resulting in an unbelievable cost savings over electric-powered aeration systems. Plus, unlike electric-powered systems, you won't have to worry about power outages reeking havoc on your aquatic habitat.
These fully automatic systems are designed to run up to 20 hours per day under standard operating conditions. The battery backup system allows them to run like normal under less-than-optimal conditions. Built for both hot and cold climates, no climate is too harsh for Solaer aeration systems
Benefits
Improves the esthetics and overall health of ponds and lakes.
Targets the "cause" of the problem, rather than just its "symptoms".
Eliminates the need for harmful chemicals.
Is safe for the environment and animal inhabitants.
Reduces maintenance, saving you money and time.
Improved Water Quality and Clarity.
Improved Fish and Water Foul Habitat.
Applications
For aquatic environments ranging in size from small ornamental ponds to lakes up to 5 acres
Remote installations
Environmentally beneficial landscaping / aquascaping
Ice Removal
How Lake Aeration Works
Lake Bed Aeration is the introduction of compressed air to a water body. When released at the bottom of a pond or lake, compressed air naturally begins to migrate towards the surface of the water. As air travels up the water column the pressure surrounding the bubbles slowly decreases causing the bubbles to increase in size -- a slight current begins to develop. The current draws oxygen-depleted water from the bottom, oxygenates it and transports it to the surface. This action protects fish, aquatic organisms and beneficial bacteria from suffocation by breaking down stratified waters while increasing dissolved oxygen levels.
Low levels of dissolved oxygen and highly stratified waters can characterize degraded or eutrophic ponds and lakes, where warm, oxygen-rich water is suspended above cool, oxygen-depleted bottom waters.
As anaerobic conditions begin to develop in deeper water, naturally occurring aerobic bacteria can no longer perform beneficial tasks such as waste digestion and water purification. With time, water quality greatly decreases leading to unsightly blooms of algae, the accumulation of aquatic sludge and the build-up of gases such as methane and hydrogen sulfide (which are well know for their offensive odors). Low oxygen levels can also lead to fish death and water kill.
Luckily, degraded ponds and lakes can easily be enhanced with the addition of a Lake Bed Aeration System. Lake Bed Aeration acts to increase dissolved oxygen levels while eliminating stratified waters. Aerobic bacteria begin to recolonize in deeper water, where they rapidly begin to digest accumulated sludge and improve water quality.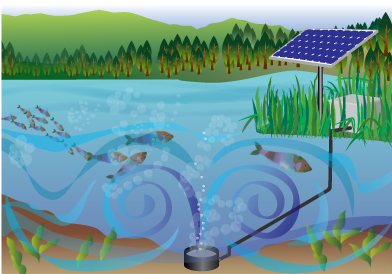 Every Solaer system includes:

Solar panel(s)
Deep cycle gel cell solar batteries
Brushless DC compressor
Wiring harness
Prostar charge control center
12/24 volt smart box converter
Programmable digital timer
Energy efficient, high volume air compressors
Attractive 100% recycled plastic cabinet equipped with cooling and sound reduction packages
Fully-adjustable manifold with safety relief valve and pressure gauge
Duraplate self-cleaning, non-clogging, membrane diffusers
Complete fittings package
Installation and maintenance manual

Optional Equipment
Automatic Solar Tracking System
Acrylic Flowmeters
Vandal-Proof Metal Cabinets
Alpine Self-weighted Feeder Tubing
Oxygen/Ozone Generation systems
Note: Customer must furnish a schedule 40 steel pipe for mounting the solar panel(s).
» Download Installation and Maintenance Manual (PDF)
Solaer Lake Bed Aeration Systems

Model

SB-1

SB-2

SB-3

SB-4

Acre(s)

<1

<2

<3

<5

Diffuser system(s)

1

2

3

4

125W solar panel(s)

1

1

2

2

Battery backup system

All
Solaer Lake Bed Aeration Systems with
Alpine Self- Weighted Tubing

Model

SB-1B

SB-2B

SB-3B

SB-4B

Acre(s)

<1

<2

<3

<5

Diffuser system(s)

1

2

3

4

125W solar panel(s)

1

1

2

2

Alpine Self-
Weighted Tubing

100'

200'

300'

400'

Battery backup system

All
*An optional automatic solar tracking system is available for all Solaer models.
System Components

Air Compressor either Rocking Piston, Rotary Vane, High Pressure Piston or Diaphram
Generates the compressed air
Cooling Fan
Protects the system from overheating
Liquid Filled Pressure Gauge
Monitors system pressure
Pressure Relief Valve
Protects the system from over pressuring
Distribution Manifold
Allows airflow to be adjusted to the diffusers
Electrical Protection
Protects against electrical damage
Inline Check Valves
Prevent water from entering the airline while system is off
Dura Plate or Dura Venturi Diffusers
Air diffusion device, produces the bubbles
Feeder Tubing
Air delivery line, run between aeration system and diffusers
Solaer Solar Powered Lake and Pond Aeration System, saves energy and conserves natural ecosystems