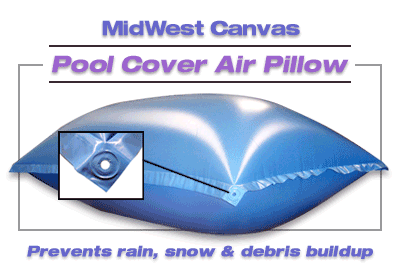 Flotation Air Pillow
To use with winter pool covers for above-ground pools
Flotation air pillows support the center of winter cover and inhibit the buildup of snow, ice, and debris during the winter months.
Raising the center of the winter pool cover allows rain and snow to flow off cover, and debris to reposition toward edge for easy disposal.
Rugged inflatable pillow also supports the winter cover while absorbing the pressure of the freezing water.
Three sizes to choose from: 4' x 5' / 4' x 8' / 4' x 15'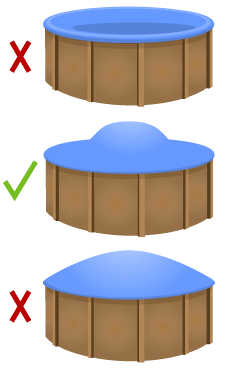 Without an air pillow, winter pool covers can sag due to rain and snow and collect unwanted debris.

Instructions:
Make sure pool water is no less than 6" from top of pool. If a through-the-wall skimmer is used, cover up the simmer opening. Inflate floatation pillow and secure the pillow in the center of pool by tying grommeted ends with nylon rope to pool sidewall.
Place the cover over pillow to form a loose pyramid, letting the cover fall in the water around the circumference. Pull end of cover over pool wall.
It is important that the cover fits snugly against the wall to prevent wind from getting under the cover and causing the cover to billow and flap.
Caution: such billowing and flapping can cause serious damage to the cover. If you cannot get a snug fit you must block any openings between the cover and the pool wall.
Can only be purchased with the Winter Covers for Above-Ground Pools