Choose Technology

Match the appropriate technology to your particular requirements using helpful online tools and time saving wizards. Determine which product performs best, who manufactures it, how to install it, and what the total costs and savings are.


Solar Water Heaters - Replace or backup your conventional water heater with a solar water heater. Heat your entire home or business with solar power. Reduce electrical bills by 30 percent.
Tankless Heaters - Also called Instantaneous or Demand Water Heaters provide hot water only as it is needed. They don't produce the standby energy losses associated with storage water heaters, which can save you money.
Water Conservation - Circulation pump supplies hot water on demand. It's activated using a switch or motion-sensing device located near each faucet where the how water is being used. Reduces water waste by up to 95%.

Pool Heating - There are three basic types of pool heating systems. Solar Pool Heaters, Electric Heat Pump Pool Heaters and Gas Pool Heaters. The best system for your pool is determined by numerous factors including your heating needs, budget and physical layout of the pool and house. To determine which system is right for you, click here: » Side-by-Side Pool Heating Comparison



Solar Electric Systems collect solar energy and use an inverter to convert this energy into AC power. A solar electric system will power individual appliances or your entire home or business.
Grid-Tie System
These systems connect with the existing power grid. If your system is generating more power than you are using, the excess will flow back into the grid, turning your meter backwards. As long as there is enough electricity flowing in from your PV system, no electricity will flow in from the utility company. Optional battery can store power for use when the system is not producing electricity such as during the night or during blackouts.

Off-Grid Stand Alone Systems
Stand-alone PV systems are designed to operate independent of the electric utility grid, and are generally designed and sized to supply certain DC and/or AC electrical loads.
Solar Electric Individual Components
You can create your own system by purchasing components separately. Photovoltaic systems are modular, you can start with a small system to power small appliances and grow your system as needed or as finances allow.

SolarSheat Solar Air Collector and Heat Recovery Ventilators
The SolarSheat solar air collector is a self-contained, self-powered unit that provides air heating for your home or business. This is a supplemental heating system. It is not designed to replace your traditional furnace or primary heating system. However, it continuously heats a cold room when the sun is shinning reducing the usage of your conventional heating system and reducing your heating bills.
Trendsetter Solar System - Evacuated Tube Collectors
This is a high temperature heavy duty system perfect for cold weather areas and commercial applications. Closed Loop drain-back freeze protected system. Uses pumps, controllers and heat exchanger.This system has multiple applications: Space Heating, Solar Water Heating, Process Heating, Radiant Floor Heating, Snow Melting.
HelioPak Solar System - Flat Plate Collector
This is a medium temperature Closed Loop System with high efficiency Heat Exchanger perefect for moderate climates. Multiple Applications: Space Heating, Solar Water Heating, Radiant Floor Heating.

Takagi Tankless Gas Heater
Designed for residential and commercial applications: Domestic hot water and hot water recirculation, Commercial Heating, Hydronic radiant in-floor space heating, Combination domestic hot water and space heating.

Seisco Tankless Electric Micro Boiler
Designed for use in residential and commercial hydronic space heating applications such as radiant floor heating, baseboard, hydro-heat pump and snow melting systems. This new micro-boiler is the ideal replacement for traditional boilers and tank-type heaters and is the enabling technology for use with active renewable energy systems such as solar and geothermal systems. The temperature activated control works effectively in low pressure and re-circulating systems.
Wind turbines with microprocessor, battery and battery charger. Available in different sizes to power anything from small appliances, sailboats to entire homes. Grid-Connection availability.

Solar LED lights are powered by photovoltaic modules that generate electricity. Self-contained systems: No power cables, no transformers, no meters, no trenching through existing roads, sidewalks or landscape. Applications: Billboard, Security, Street, Marine, Garden, Backup. Perfect for remote areas.
Washer and Dryers, Refrigerators, Tankless Water Heaters, Instant Hot Water Heaters, Solar Ovens, Solar Powered Attic Fan, Halogen Lamp, Light Bulb Bases, Natural Light Skylights, Low Flow Shower Heads.


800 333 9276

. . . . . . . . . . . . . . . . . . .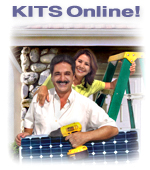 Do-It-Yourself Kits;
• Slash Electric 20-90%
• Cut Hot Water 75-97%
• Pool Heating by 100%
• All-Inclusive Packages
• Raises Home Value!

. . . . . . . . . . . . . . . . . . .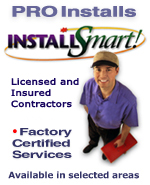 . . . . . . . . . . . . . . . . . . .


Federal Incentives
For Solar & Energy Efficient Technologies.
» Rebates
. . . . . . . . . . . . . . . . . . .



"We slashed our Electric Bill from $500 to $140"
Learn how a family achieved significant savings when they initiated a Solar Home MakeOver.

» Solar Home MakeOver

. . . . . . . . . . . . . . . . . . .


Media, print and online publications covering articles and reports featuring Solar Direct & green technologies.
» News
. . . . . . . . . . . . . . . . . . .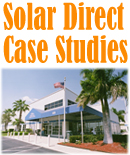 View a small sample of Solar Direct's Case Studies: Residential and Commercial