Helio-Pak Heat Transfer Appliance
Made by Heliodyne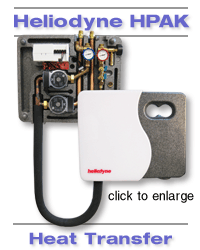 The Helio-Pak (HPAK) is an all-in-one closed loop heat transfer appliance, specifically designed to simplify solar hot water systems, and provide maximum heat transfer. The HPAK comes factory assembled, and wired with all necessary components, making installation a trouble-free experience. With its unique design, the SRCC rated its performance as being 25% more efficient than conventional internal heat exchangers.

A major benefit the Helio-Pak provides is that it attaches directly onto the hot water tank. As a result, under certain conditions, the HPAK can be mounted onto a pre-existing water tank, thereby reducing costs. This is a feature no other solar hot water heat-exchanger on the market can offer.
Product Features
Augmented heat exchanger surface promotes maximum heat generation
Superior heat transfer via unique counterflow design
25% more efficient than conventional internal heat exchangers
Under certain conditions, can mount to existing tank
"Plug & Play" installation
Viewable heat exchanger leak detection
Several sizes available for differing loads
The Helio-Pak comes assembled with:
Double-wall external heat exchanger with leak detection
Delta-T controller w/ sensors
Pressure relief valve
Expansion tank
Pressure gauge
2 combo valves; 1 check valve, 1 ball valve, and 1 thermometer
2 Pumps
Product Specifications
Model
HPAK16
HPAK24
HPAK32

HPAK48

Heat transfer rate
(BTU / hour1)
16,000
24,000
32,000
48,000
Recommended Flow Rate2 (Gallons per Minute)
3
4
6
9
Max Collector Surface Area (ft2)
96
160
200
321
Recommended Pump Speed (Energy Use)
1 (60W)
2 (90W)
2 (90W)
3 (110W)
Max Piping Resistance3 (ft of Water)
2
5
6
7
Weight (lbs)
55
65
75
90
Expansion Tank
2 gal.
2 gal.
5 gal.
5 gal.
Voltage
110VAC
60 Hz
110 VAC
60 Hz
110 VAC
60 Hz
110 VAC
60 Hz
1 - At full sun and 20º log mean temperature differential 2 - With max collector surface area installed 3 - With recommended pump speed
More Information » Technical Specifications
Helio-Pak Pro Upgrade
The Helio-Pak Pro (with pre-installed Delta-T Pro controller) further enhances the residential solar hot water system, with the addition of user-friendly customizable settings, remote navigation, and expanded system performance data.
Upgrade Features
Remote Wi-Fi system navigation
BTU metering
Stored energy data (BTU, °F, GPM)
Adjustable user settings
Vacation mode