SunEarth Solar Water Heater - Complete System
Active - Closed Loop
With nearly 1/3 of the average electric bill devoted to heating water, a solar hot water system is the smart choice and best investment you can make for your house and for the environment. Solar hot water systems supply an average 70-100% of a household annual water heating needs!

SunEarth Complete Solar System is our most popular solar water heating system for tropical or southern climates where freeze seldom occurs. The System Kit includes all of the parts and components to properly install a complete solar water heating system: The primary components are the collectors, heat storage, and controls.
SunEarth Solar Water Heater Base System Includes:
• Solar Panel(s) - SunEarth Collector
• Lochinvar Solar Storage Tank with T&P Valve
• Tank Kit (Use with Mpt Tank Outlets)
• Panel Plumbing Kit
• Differential Control Kit with Spring Check Valve
For a complete parts breakdown, please click here

Function: Supplies 70-100% water heating needs

Benefits:
• Saves you money - Reduces your monthly utility costs
• Saves the environment - Reduces fossil fuel consumption
• Adds value to your home - Recapture the initial cost of the system
• by creating equity in your home

Product Applications:
• Suitable for single application domestic hot water systems
• Designed for tropical or southern climates where freeze seldom occurs
• Project feasible for handy-person using basic hand tools
• System collectors designed to mount on roof
• Installs on all roof types: shingle, wood shake, metal and title

Product Features:
• Integrated pre-assembled system for easy installation
• Installation instructions and diagram
• Includes all necessary components needed for project
• Works on sunny or cloudy days with electrical backup [included]
• Attractive collector design
• Conforms to national plumbing, electrical and solar standards
• Automatic controller alerts the pump when to run
• Highly efficient nonpolluting alternative energy source
• Exceeds Energy Star criteria, delivers maximum credit toward
• Energy Efficiency Compliance
• Tanks are available in 80 and 120 gallon sizes
• Integrates easily with existing systems
• The only household appliance that will pay for itself 4 times during
• its useful life

• Proper kit selection supported by customer service agent
• Installation supported by solar engineer tech assistant
• Toll-Free help line and/or online e-mail tech support
Warranty
• Manufacturer warranty for individual components apply. See product
• warranty card for details or request warranty information from sales
• representative.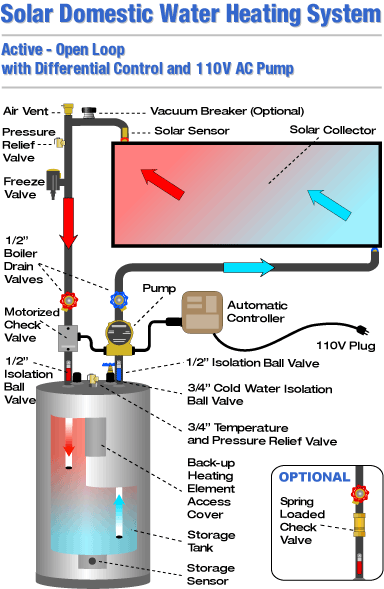 SunEarth Solar Systems are characterized as direct (open-loop), active systems. Active systems use electric pumps, valves and controllers to circulate the heat-transfer fluid through the collectors.

Performance
Performance varies depending on the type and size of the system, the amount of sun available at the site, proper installation, and the tilt angle and orientation of the collectors. We can perform a solar site analysis for you or show you how to do your own to ensure you select the best system to meet your needs.
Sizing Your System
Proper sizing and selection of your system will insure years of trouble-free hot water service to your home. A good rule of thumb for sizing your system consists of two parts; Collector size and Solar storage.

Collector size:
Collector size is calculated at about 20 ft² of collector area for each of the first two family members and 8 ft² for each additional family member.

Solar Storage:
Solar Storage, or tank size, is calculated at a ratio of at least 2 gallons of storage capacity to 1 ft² of collector area.

The models below are designed for tropical or southern climates where freeze seldom occurs. Recommended for region A on map.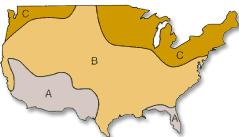 Persons per
household

System

Collectors
Qty - Model

Collector
Size

Total
Sq. Ft.

Storage
Capacity

1-3

EP66-32

1 - EP32

4 X 8

32

66 gal

3-5

EP80-40

1 - EP40

4 X 10

40

80 gal

5-6

EP120-64

4 X 8

120 gal

6 or more

EP120-80

2 - EP40

4 X 10

80

120 gal