Pentair MasterTemp Gas Pool Heater, Certified for Low Nox emission
NOTICE: Southern CA and TX law requires Low Nox units.
Low Nox heaters are required when installing a new Natural Gas heater in Texas and the following California Counties - Ventura, Los Angeles, Orange, Riverside, and San Bernardino. CA and TX residents must purchase the Low-Nox model.
The MasterTemp is certified for Low Nox emission.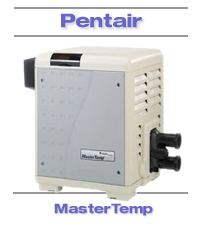 GAS Pool Heaters – Discover quality alternative heating options to be sure that Gas Heating is the right choice for your pool… Were you aware propane or natural gas has the highest operating cost, and is the least efficient / cost effective way to heat a pool? If you require rapid heat up, constant temperature regardless of outside temperature, or you are heating a spa or hot tub, then the gas heater below may be right for you.





ALERT » View other higher efficiency options
• Side-by-side major heating systems comparison guide reviews
• the details on Gas Heaters, and how they compare to the two
• other major heating methods – Heat Pumps and Solar

HELP » Contact Customer Support
• Toll-Free help line offering system selection support

---
MasterTemp – manufactured by Pentair, now offers the most advanced heater available!!!

The Energy SuperMarket offers the lowest on-line factory direct pricing available! Guaranteed.
Pentair – A global technology and development company - Pentair is now the premier manufacturer of swimming pool and spa systems, and a world leader in water technology.
Available in both Natural Gas or Liquid Propane

MasterTemp delivers progressive advances in energy efficiency, smart electronics and innovative design. Its specially designed fueling and ignition process warms pool water faster to that oh-so-right temperature.
Best-in-class efficiency – MasterTemp maintains a superior energy efficiency rating to keep annual utility costs at a minimum.
Eco-friendly – Certified for low NOx emissions, the MasterTemp outperforms industry standards.
Forever rustproof – A tough Dura-Glas exterior handles the heat and weathers the elements.
User-friendly controls – The top-mounted, large format digital display allows for easy viewing and rotates to six positions for easier operation.
Self-diagnostics – Ultra user-friendly indicator lights pinpoint heater and system conditions. Jump into savings and warmer pool water with the new MasterTemp pool heater.
---

HELP » Contact Customer Support
• Toll-Free help line offering unit sizing support
• Online e-mail technical and installation support
• Brand and cost-of-operation comparisons
---
CONSUMER NOTICES and ALERTS

IMPORTANT Notes:
Gas Heater Installation - Upon delivery of unit,
installation of a heater can be performed by homeowner, but The Energy SuperMarket strongly recommends the installation of any new or replacement gas heater be done by trained personnel, a licensed and insured contractor, or by a pool/spa professional.


Gas Connections - Actual hook-up of the gas connections and the turn-on of the gas itself are highly recommend, and in most states legally required, to be performed by a licensed and insured plumber, or a gas utility company employee.


Critical Warning - Do not attempt to connect gas lines or turn-on gas yourself! Serious personal injury, damage to the unit and/or home, fire, or explosion could result !!!
IMPORTANT Notes:
Indoor installation requires Indoor Draft Hood.
Use in high wind areas requires a High Wind Stack.
[Both items purchased separately; call for details]
IMPORTANT Delivery Note:
Delivery truck driver will require handling assistance to be provided by purchaser when unloading unit from truck. Liftgate service, where available, may require an additional fee payable directly to the freight company.
---
Function: Warms pool/spa to 80-90° plus extends season
Benefits: Maximizes your pool/spa investment!
Product Features:
No matter what you're seeking in your swimming pool heater, MasterTemp measures up. Compare this list of features to any other and you'll see why MasterTemp is setting a new standard for total value.
Very compact design for such a high performance heater allows for smaller overall equipment pads that won't intrude on your poolscape.


A fully pre-mixed system with a highly efficient air and gas mixture lets MasterTemp heat up fast. No long waits before enjoying your pool or spa.


Compare energy efficiency ratings and you'll find MasterTemp at the top of the list. Comfort and economy can go together.


With a hot surface ignition (no pilot light) and pushbutton, digital controls MasterTemp is as easy to operate as your home heating
system. Plus, user-friendly indicator lights make system operation and monitoring a snap.


The easy-to-view, rotating digital display places controls front and center, no matter how MasterTemp is positioned on your equipment pad.


MasterTemp is engineered for super-quiet operation and won't intrude on your poolside leisure time.


A tough, rustproof composite exterior handles the heat and weathers the elements.


Eco-friendly, MasterTemp is certified for low NOx emissions and outperforms industry standards.


Safe operation is assured through a series of features, including; a water pressure switch that senses the pump is running to prevent overheating; high limit switches assure the heater turns off if water temperature exceeds factory set limits; manual gas shut-off when service is required; stack flue sensor also guards against overheating.


Approved for installation on combustible surfaces.
Product Specifications:

MasterTemp Specifications

Model
BTU Input
Approx. ship weight
250K
250,000
133 lbs
400K
400,000
136 lbs
View » Literature provided below in PDF format:
Pool Gas Heater Sizing

°F Temp.
Change
24 Hrs.

Heater Size

Heater Size

Model 200

Model 250

Model 300

Model 400

Model 200

Model 250

Model 300

Model 400

Pool Capacity in Gallons

Pool Surface Area
in Sq. Ft. at 5.5' Depth

5

97383

121729

146075

194766

2364

2955

3546

4727

10

48691

60864

73037

97383

1182

1478

1773

2364

15

32461

40576

48692

64922

788

985

1182

1576

20

24346

30433

36519

48691

591

739

887

1182

25

19477

24346

29216

38953

473

591

710

945

30

16230

20288

24345

32461

394

493

591

788

35

13912

17390

20868

27824

338

423

507

675

40

12173

15216

18260

24346

295

369

443

591

Spa Gas Heater Sizing

Model

Spa Volume (Gallons)

200

300

400

500

600

700

800

900

1000

Minutes for 30°F Temperature Rise
(Heater Input in 1000 BTU/HR)

200

18.0

27.0

35.0

44.0

53.0

62.0

71.0

80.0

89.0

250

15.8

23.5

30.8

38.5

46.5

54.3

62.0

70.0

77.8

300

13.5

20.0

26.5

33.0

40.0

46.5

53.0

60.0

66.5

400

9.0

13.0

18.0

22.0

27.0

31.0

35.0

40.0

44.0
Product Manufacturer: Pentair Pool Products, Inc.
---
*Due to ongoing price changes, a quote is required at this time for the following states: AK, HI, MT, WY, DC.

IMPORTANT NOTE: The average skilled handy person can easily manage a basic unit change-out or new installation.
For installations which require new gas and/or electrical service, hiring a contractor is recommended.
Note: All gas heaters are shipped directly from the factory and are non-returnable - all sales are final.
Delivery Information: Gas heaters are packaged and shipped to fulfill each customer's specific requirements. Please allow 3 to 14 business days for orders to be processed and the unit to be boxed and secured to a shipping pallet, plus standard transportation delivery time.

IMPORTANT Delivery Note:
• Delivery truck driver will require handling assistance to be provided by purchaser when unloading unit from truck. Liftgate service available at an additional fee.

---