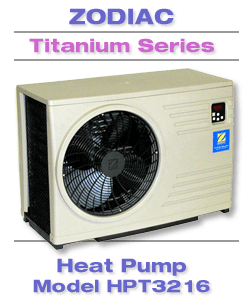 Make every day a swim day with the Zodiac Titanium series heat pump!

The Zodiac HPT 3216 is the energy efficient solution for most pools. The secret to its efficiency is the unit's small size and ultra premium components. The unique triple evaporator coil, patented titanium heat exchanger, and top-of-the line scroll compressor from Trane all boost the HPT 3216's efficiency to 6.6 COP! Just set the temperature and enjoy the warmth and comfort of your pool!

Product Applications
Small inground pools that are up to 16' x 32' or approximately 512 square feet
Large aboveground pools up to 27 feet round
Product Benefits
Save about 80% on energy costs
Warm pool any day
Compact size
Heating Costs

Zodiac heat pumps are the economical way to heat your pool or spa. By comparison, traditional pool heating systems like natural gas, propane gas, oil and electric can only generate heated pool water on at best a dollar for dollar basis. In fact, the more expensive fuels like electricity and oil return 70 cents - 80 cents of heat for every dollar spent resulting in an inefficient operating return on investment.

Heat pump cost savings versus other pool heating systems:
80% less than propane gas
30% to 40% less than natural gas
600% less than electrical resistance heaters
Keep in mind a solar blanket will greatly reduce your energy costs and help maximize the pool heat pump efficiency.
Expand your pool season while keeping energy costs low.
Bigger is not always better. A difference of 1.0 COP can save you hundreds of dollars in annual costs. Choose the heat pump that's the right size for your pool.
For the typical 32x16 Florida pool, an average of 61,000 BTU's are required for heating to 82 degrees. Even fewer BTU's are required if a solar blanket is used.*
* Based on formulas from U.S. Department of Energy to heat a 32x16 pool to 82 degrees year round in Florida with a cover. British Thermal Unit (BTU) is a measurement of heat energy.