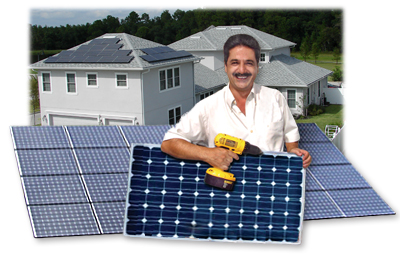 Residential Grid-Tie Systems (GTS)


Solar Electric Grid-Tie Systems generate clean energy from the sun, reducing your dependency on utilities. In many states, when the system is generating more electricity than is being used, you can sell the excess electricity to the local utility. You'll take comfort in knowing you've made a wise financial investment that helps to preserve the environment and leaves a cleaner world for your children.

Grid-Tie Systems are quiet and operate automatically. The system "wakes up" and begins to deliver power as the sun rises and "goes to sleep" as the sun sets. On-site installation can be completed within a few days. Because there are no moving parts, these systems are virtually maintenance free.
| | |
| --- | --- |
| | Packages Include: |
Solar Electric Modules
Solar Inverter
UniRac Mount
Package includes the major components for installation as outlined below. The Balance of System [BOS] components are supplied by the installer.
| | |
| --- | --- |
| | Engineering design is available as an option. |
This service includes a custom design for your specific residential application [commercial systems vary, call for details]; our engineers work together with you and/or your installer to design a system and determine a complete BOS component list. We supply CAD drawings and Engineering Submittals sealed by our Florida Professional Engineer [PE] ready for submission to the building department. Building Departments in other sates may require a local engineer review and seal. Our Engineering Department and Installation Department will assist you with technical questions pertaining to your installation. Balance of System components can also be ordered with the Engineering Option. This includes a custom tailored package of all components to complete the installation [except conduit].
These systems can be installed by the do-it-yourselfer, however, the wiring connections should be installed by a qualified electrical or solar contractor. Some rebate programs require a Licensed Contractor to qualify for the rebate. Solar Direct offers installation services in Florida and some other limited service areas; please call for installation quotation.
Product Benefits:

Generate your own electricity and reduce your electric bill
Protect against future utility increases
Sell excessive power back to the Utility Grid:
Spin your meter backwards with Net Metering
Reduce the burning of fossil fuels for a healthier environment
Increase the value of your home
Save money on your system with state rebates and incentives
Solar modules have up to a 25-year warranty
Systems typically have a lifetime of 40+ years
| | |
| --- | --- |
| | Solar Electric Modules |
The solar array consists of PV modules which convert sunlight into electric energy. The modules are connected in series and/or parallel to provide the voltage and current levels needed. The array is usually mounted on a metal structure and tilted to face the sun.
| | |
| --- | --- |
| | Solar Inverter |
An inverter is required when you want to power AC devices. The inverter converts the DC power, or direct current, from the solar array and batteries into AC power.
| | |
| --- | --- |
| | Mount |
UniRac Solar Mount Frame; mounting on a single story AS shingle roof, with a wire run up to 100 feet to power Distribution Panel.
View complete technical information, sizes and pricing for the following brands:
Or get a Quick Quote
Note: Grid Tie solar power systems are only designed to provide electricity to run your lights, appliances and other electric devices in your home and will not convert the sun's light into heat. The solar modules convert sunlight into electricity to operate appliances, lights and other devices and will not heat water. See Solar Water Heater Systems for solar thermal panels or systems used for water heating or passive solar heating.